Current Market Insight from Stacy Kitchell, Managing Broker of Kitchell Group, regarding the article below:
We are seeing the challenges in the luxury market first-hand.  We are actively showing homes to several luxury clients and here's what we're seeing:
1) Low Inventory – We're having a difficult time finding the type of home they want due to low inventory – in many different areas of Tampa from Pinellas Co. (e.g.  Tierre Verde, Safety Harbor, Dunedin, beach towns) to Hillsborough County (e.g. Davis Island, South Tampa, etc.).
2) Sellers Pricing Above Market – One issue we're seeing is that some sellers are still pricing their homes with Spring 2022 prices (the peak) and are having to come down to reality as Days on Market increase.  But – for those homes that are realistically/reasonably priced and are a well-prepared listing, they are still going quickly – and many times at full price.
3) If I Sell, Where Will I Go? –  To assist our buyer clients, we are also actively reaching out to luxury and non-luxury homeowners (for our $550-850K price points) to ask if they are interested in selling.  Although they have been thinking of moving, the big question from these sellers is: "If I sell, where am I going to buy?"
4) Selling at 3.00-4.00% Interest Rates & Buying at 6.00-6.50% Rates – Existing homeowners who want to sell and need to finance their next home purchase are looking at selling at 3.00-4.00% rates and purchasing at 6.00-6.50%.
5)  Creative Loan Options – Lenders are returning to the creative side of financing, as they did in 2009-2012 including:
Interest Rate Buy-downs

– Lenders are pricing interest rate buy-downs at more reasonable costs as some sellers offer closing cost credits to buy down rates (recent estimates I received to buy down interest rates were $5K to buy down .5% and $10K for a 1% decrease in rate.  in Fall 2022 the cost was almost

twice

as much to buy down rates due to economic uncertainty of the market and future potential increases in the Fed rate).  We recently negotiated a closing cost credit of $12,500 for a buyer client, so it is happening.

Special Financing Programs with Lower Monthly Payments in Years 1 & 2 with plans to Refinance as Rates Decrease

– Buyers who really want to or need to move are also asking for closing cost credits to fund financing programs that offer lower payments in years 1 & 2 until rates decrease so that they can refinance.
I hope you find this current market update insightful.  We're here for any questions or if you think you may be a candidate for one of our many homebuyer clients.   Send an Email, call us, or simply click the Chat box on our website.
Warmest Regards,
Stacy
___________________________________________________________________________________________________________________________
MARCH 13, 2023
Jan. Luxury Purchases Down 45% Year-to-Year
By Kerry Smith
Financially astute wealthy buyers don't like the uncertainty of today's market, so some have taken a wait-and-see attitude with home buying.
SEATTLE – Sales of luxury U.S. homes declined a record 44.6% year over year during the three months ending Jan. 31, 2023, according to Redfin. That drop outpaces a record 37.5% drop in sales of non-luxury homes, according to data collection that began in 2012.
In the face of inflation and the Federal Reserve raising interest rates, the U.S. housing market has cooled significantly over the last year due to rising mortgage rates, persistently high home prices and a shaky economy. The result: Many wealthy Americans choose to invest in assets due to the uncertainty of future real estate returns.
Redfin defines luxury homes as those in the top 5% based on the area's estimated market value.
"Uncertainty is the main factor driving the luxury-market slowdown in Los Angeles," says Alin Glogovicean, a local Redfin Premier real estate agent. "If you're investing millions in a property, you want to make sure it will hold its value. Most luxury buyers and sellers are thinking, 'Let's just wait and see what happens to the market. When it stabilizes, we'll be ready to go.' Everyone is kind of at a standstill."
Miami led the drop in high-end home sales:
Miami: Down 68.7%
Nassau County-Suffolk County, New York: Down 62.6%)
Riverside, Calif. Down 59.8%
Anaheim, Calif.: Down 59.3%
San Jose, Calif. Down 59%
These markets likely saw high-end buyers back off because they were already among the least affordable in the nation, and rising rates added fuel to the fire. However, those metros also saw an outsized surge in luxury sales during the pandemic, so that decline probably isn't a long-term change but a return to sustainable levels.
"The silver lining for the luxury buyers who are still in the market is that competition is sparse and jumbo loans now often have lower mortgage rates than other loan types, in part because there's less risk that high-end buyers will default on their mortgages," says Redfin Economics Research Lead Chen Zhao. "Wealthy house hunters are also frequently offered additional rate discounts from their banks as a perk for storing substantial funds there."
A limited inventory of luxury homes
The number of for-sale luxury homes rose 7.1% year-to-year, the biggest jump since 2015 – but that increase can be misleading. It's largely due to the fact that supply hit rock bottom roughly a year earlier, and supply is also piling up because so few people are buying homes.
As a result, supply remains tight by historical standards. The number of luxury homes for sale wasn't much higher than a record low hit about a year ago.
Supply remains near historic lows, in part, because fewer people are putting their homes on the market. New listings of luxury homes fell 6.6% year over year as new listings of non-luxury homes slumped 22.5%.
Graph shows how luxury home prices have changed over the last 10 years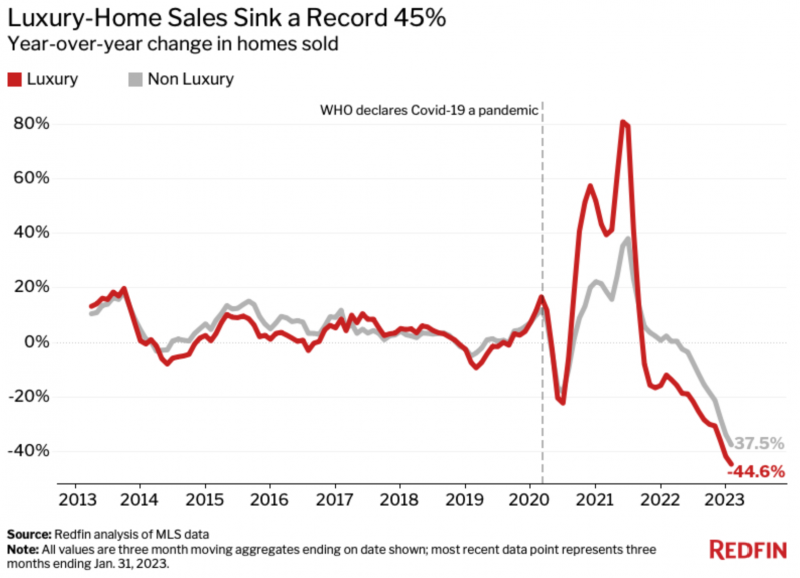 © 2023 Florida Realtors®